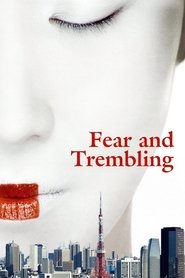 Fear and Trembling – Teama (2003) Online Subtitrat in Romana HD
Filmul online Fear and Trembling – Teama (2003) iti este oferit gratuit la o calitate buna si fara intrerupere.
Amélie, o tânără belgiană, care și-a petrecut copilăria în Japonia, decide să se întoarcă să locuiască acolo și încearcă să se integreze în societatea japoneză. Ea a hotărât să fie un "adevărat japonez" înainte de expirarea fiecărui contract de an, deși tocmai această determinare care este incompatabilă cu umilința Japoneză. Deși este angajată pentru un post de traducător la o firmă de import/export, abilitatea ei de a înțelege normele culturale japoneze are ca rezultat demoții din ce în ce mai umilitoare. Deși Amelie o adulează în secret, supraveghetorul ei imediat are plăcere sadică în a-i diminua tot timpul. În cele din urmă reușește să spargă voința lui Amelie făcându-i însoțitorul de baie și este încântată când Amelie îi spune că nu își va reînnoi contractul. Amelie își dă seama că este în sfârșit o adevărată japoneză când intră în biroul președintelui companiei "cu frică și tremur", ceea ce ar putea fi posibil doar pentru că fiecare determinare a fost ruptă de tortura sistematică a domnișoarei Fubuki.
Durata: 107
Calitate: HD
Anul: 2003